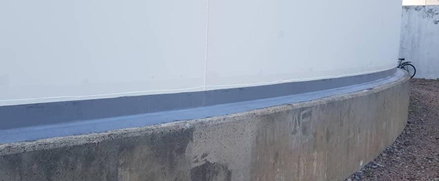 Trenton's Wax-Tape #2 Anticorrosion Wrap, The Recommended Corrosion Prevention And Protection Solution For Tank Annular Plate With High Exposure To Chloride & Corrosive Chemicals
Minimal Surface Preparation
No special Equipment or Habitat Required
Short Installation Time
Easy to Apply
Since 1949 Trenton Corporation has been the frontrunner in the development of petroleum wax based anti-corrosion products. For the past 50 years, the same product is being used across the globe in multiple sectors and industries. The industry favourite Wax-Tape #2, is a nonwoven, non-stitch bonded synthetic fabric, saturated with a blend of microcrystalline wax, solvents and corrosion inhibitors (no clay fillers), forming a tape wrapper that firms up and is suitable for painting.
The Wax-Tape #2 offers excellent waterproofing characteristics and is inert, therefore it does not degrade nor deteriorate overtime. The unique malleable property allows the material to conform with irregular surfaces. It is quick and easy to apply with minimal equipment requirements. Additionally, the minimum surface preparation (SSPC SP2 or ISO ST2) reduces the need of tedious surface preparation and use of specialised equipment for abrasion blasting.
The Wax-Tape #2 is most suitable for application on aboveground and belowground metal surfaces and pipe or fittings to prevent corrosion. It is excellent for use especially when abrasive blasting or painting is impractical. The Wax-Tape #2 resists weathering and UV without the need for an additional outercoat or outer-wrap.
In recent years, a number of tank farm operators Malaysia have adopted the use of Wax-tape #2 as their primary solution for a long-term annular plate against corrosion. These operators have witnessed the efficacy of the Trenton Wax-Tape #2 safeguarding their assets from corrosion growth with zero maintenance beyond the 5 years mark. To date the Wax-Tape #2 has been applied on tank annular plates ranging from 4m to 39m diameters.

The application of Wax-Tape #2 is simple 3-step solution. The first step is the ST-2 (SSPC SP2) surface preparation achieved with a basic wire brush and hand tools to remove loose and flaky rusts. In case of existing hard-to-remove protective coatings, a scraper or chisel with mallet is used. Applicators may choose to use power tools to expedite the surface preparation should the environment permit. Step two is the application of Temcoat 3000 Primer on the tank wall & annular plate. The final step is the application of Wax-Tape #2 covering the tank wall bottom and tank wall.
All void, bubbles and trapped air pockets are gently pushed out by hand and finally the Wax-Tape #2 is firmly pressed to seal off to prevent water ingress and debris trap. The entire wrap is deemed complete upon fulfilling the QA/OQC checklist.
IEV is the exclusive distributor of Trenton Wax-Tape products in Malaysia, Vietnam, India and Nigeria. Our complete solution includes material recommendation and calculation, delivery and distribution, and after-sales consultation. We have a team of technicians to carry out the scope or at the preference of the client,we are able to train client contractors or their own personnel to apply.
For further information on IEV's CCS solutions, please visit our site at https://www.iev-group.com/asset-integrity-management/corrosion-control-solutions/
Download the pdf version of this post at : Case Study Trentons Wax Tape 2