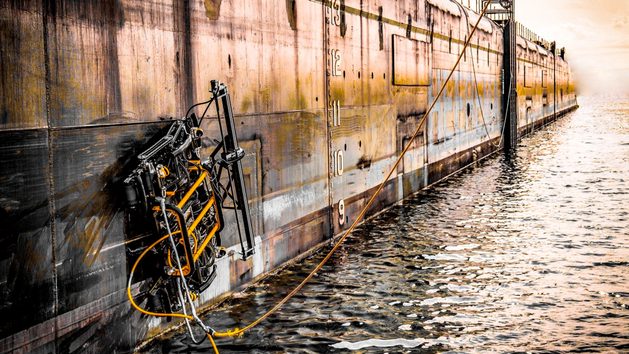 IEV partners with REMOTION to bring Magnetic Robotic Technology to carry out hull repair, maintenance and surface treatment services in the Asia Pacific region
IEV has partnered with REMOTION, a Norwegian company to supply and support its innovative Magnetic Remote Operated Vehicles (M-ROV) for the marine- and offshore industry, especially for fabric maintenance and below waterline operations of vessel's hulls. The M-ROV robotic systems provides a safe, cost reducing and time effective solution to the most challenging part of any marine asset maintenance in the splash zone area.
The M-ROV systems are made to interface with common ROV tooling in addition to special tooling like for example habitats and surface treatment tools. With the advantage of working in the splash zone subjected to waves up to 4.5m significant height, this special advantage allows vessel operators to carry out inspection, maintenance and small crack repairs without dry-docking.
The M-ROV has been successfully deployed for many projects in the European waters. Armed with these experience and well-developed expertise, REMOTION has partnered with IEV to bring forth the M-ROV technology to Asia Pacific waters. This easy to deploy system is packed in single container and local personnel will be trained to carry out the project in this region.
Christopher Do, CEO and CTO of IEV Group commented, "the use of Robotics Engineering is being adopted by many operators of oil and gas assets globally to improve efficiency and safety of maintenance operations in challenging environments. We are also working on a R&D program to incorporate the most advanced smart coating technologies to enable M-ROV to not only remove marine organisms and carry out surface preparation but also apply anti-corrosion and antifouling in-situ."
Morten K. Urrang, Managing Director of Remotion commented "we look forward to expanding our M-ROV operations based on the good track record these systems has gathered over the last years. Asia Pacific waters with its large fleet of Floating Production and Storage Units and shipping industry is a very interesting and high priority area for our expansion. The local presence of IEV Group, their market knowhow and technical skills has already impressed us, and we look forward to start strengthen the collaboration.
IEV will be officially launching the REMOTION M-ROV system in the coming weeks. Look out for update at our LinkedIn page: [ https://www.linkedin.com/feed/update/urn:li:activity:6853937745073704960 ]